PHASE I IS COMPLETE. THE TEXAS CAPITOL MALL IS NOW OPEN!
MAKING HISTORY
The Capitol Complex Project is transforming the Capitol Complex as a destination that celebrates the Capitol with grand civic spaces, shaded pedestrian-friendly streets, and connections to the surrounding community.
PHASE 1
The 2016 Texas Capitol Complex Master Plan provided the vision for Phase 1 of the Capitol Complex Project with the new construction of the George H.W. Bush State Office Building at 18th Street and Congress, the Barbara Jordan State Office Building at 16th Street and Congress, and three blocks of the Texas Capitol Mall and underground parking garage. The Texas Capitol Mall is located on Congress Avenue between 16th Street and Martin Luther King Jr. Boulevard and serves as the northern gateway to the Capitol Complex with public green space for tourism, events, and festivals.
Phase I also included a new central utility plant that supplies chilled water to all Capitol Complex buildings north of 15th Street. Phase I was completed in 2022.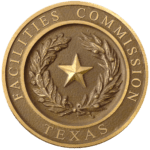 OUR MANDATE
The Capitol Complex Project centralizes all state agencies previously located in leased spaces throughout Austin.
"Consolidating all state agencies within the Capitol Complex creates the potential to maximize operational efficiencies between and within the agencies, offers visitors easier access to agency offices, and eliminates the cost of leased space for these offices."
PHASE I CONSTRUCTION TIMELINE VIDEOS
CONSTRUCTION PROGRESS PHOTOGRAPHY