TOUR STOP 8:
CONSTRUCTION MANAGEMENT
Construction Management Agent: Balfour Beatty
Subconsultants: Smith and Associates, Encore Group of Professionals, LLC, Markind, LLC
Duration: July 2018 – May 2022
Page content courtesy of Balfour Beatty
---

Balfour Beatty was selected to provide construction management agent services on the $500 million Texas Capitol Complex Master Plan Phase 1, which includes the excavation of 4 ½ blocks on the north side of the Capitol providing 5 levels of underground parking, construction of two buildings totaling 110 million square feet of new state office space, a central chilled water facility, and construction of the landscaped Texas Capitol Mall above the parking deck.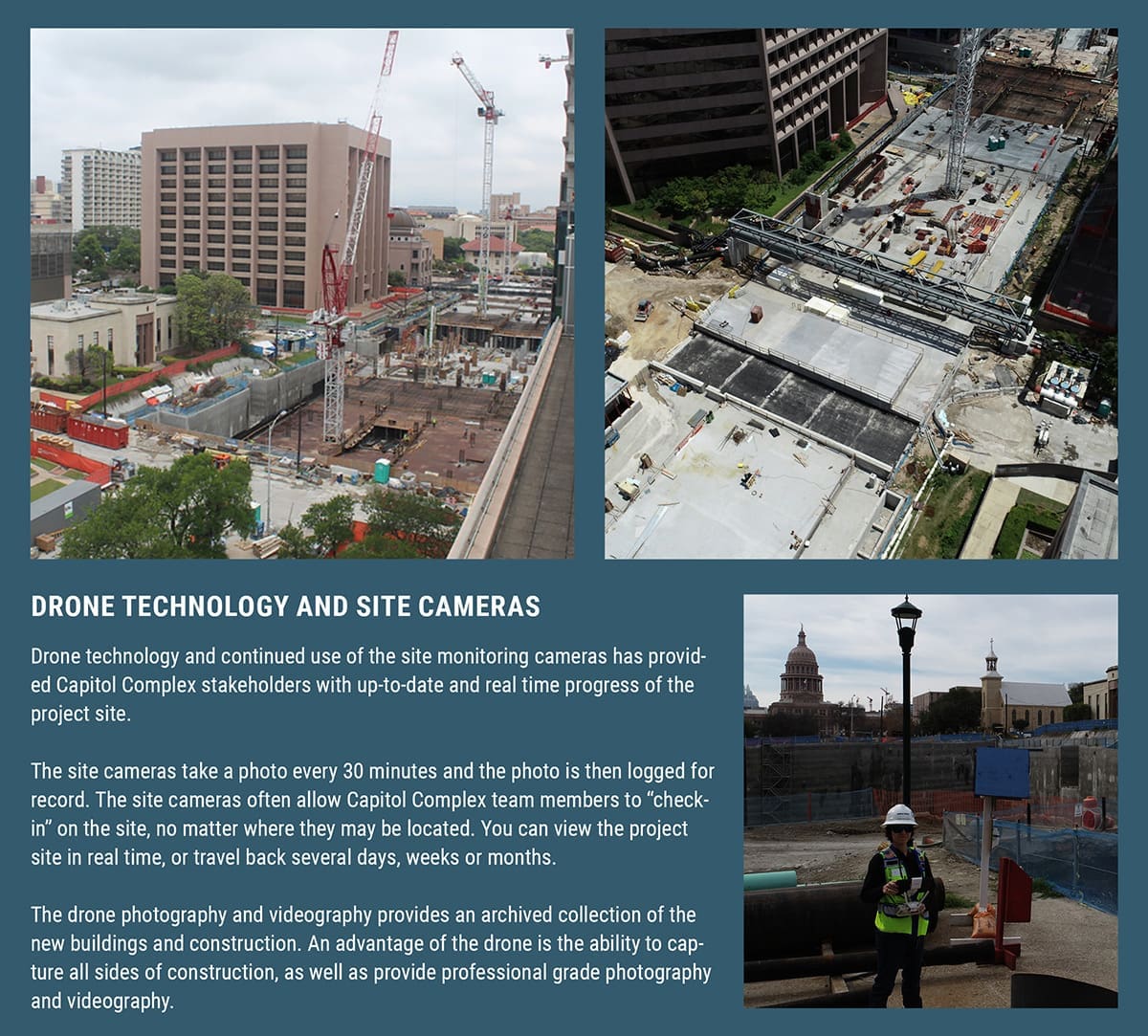 BIM - AN INTEGRATION TOOL ESSENTIAL FOR PROJECT SUCCESS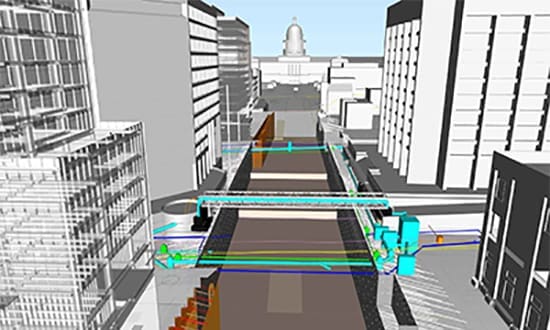 The biggest single challenge on the Capitol Complex Phase I project was integrating the simultaneous construction of three adjacent building sites (1801 Congress, 1601 Congress and the Texas Capitol Mall and Underground Parking). Balfour Beatty needed to help the different general contractors understand the interfaces between the projects and clarify the contractors' roles and responsibilities for the interfaces, including utilities, waterproofing, warranty, etc.
Balfour Beatty developed a master three-dimensional model BIM model that integrates the architectural, engineering, and construction documentation for the entire program. This model has been used to help the multiple entities of the Phase I project collaborate and report construction progress. In addition, Balfour Beatty developed a unique new process to easily transfer the construction BIM data to the TFC Facilities Management data base that is used to maintain the buildings.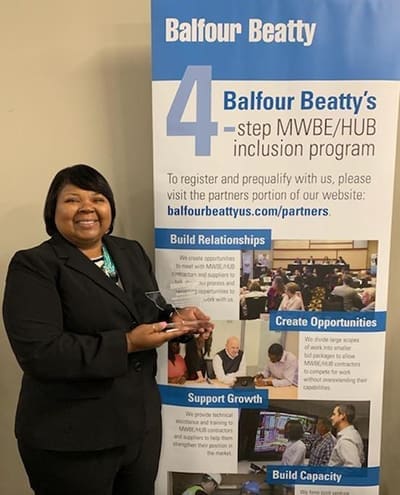 HUB OUTREACH:
BUILDING OPPORTUNITY
Regina Adams of Smith and Associates led the HUB Outreach and Compliance Plan for Phase 1 working with TFC and Balfour Beatty to develop realistic HUB utilization goals and facilitate meetings between HUB vendors, program consultants, and general contractors to discuss and identify vendor opportunities. She assisted TFC in reviewing all Requests for Approval of Subcontractors and tracked HUB applications from inception through final approval.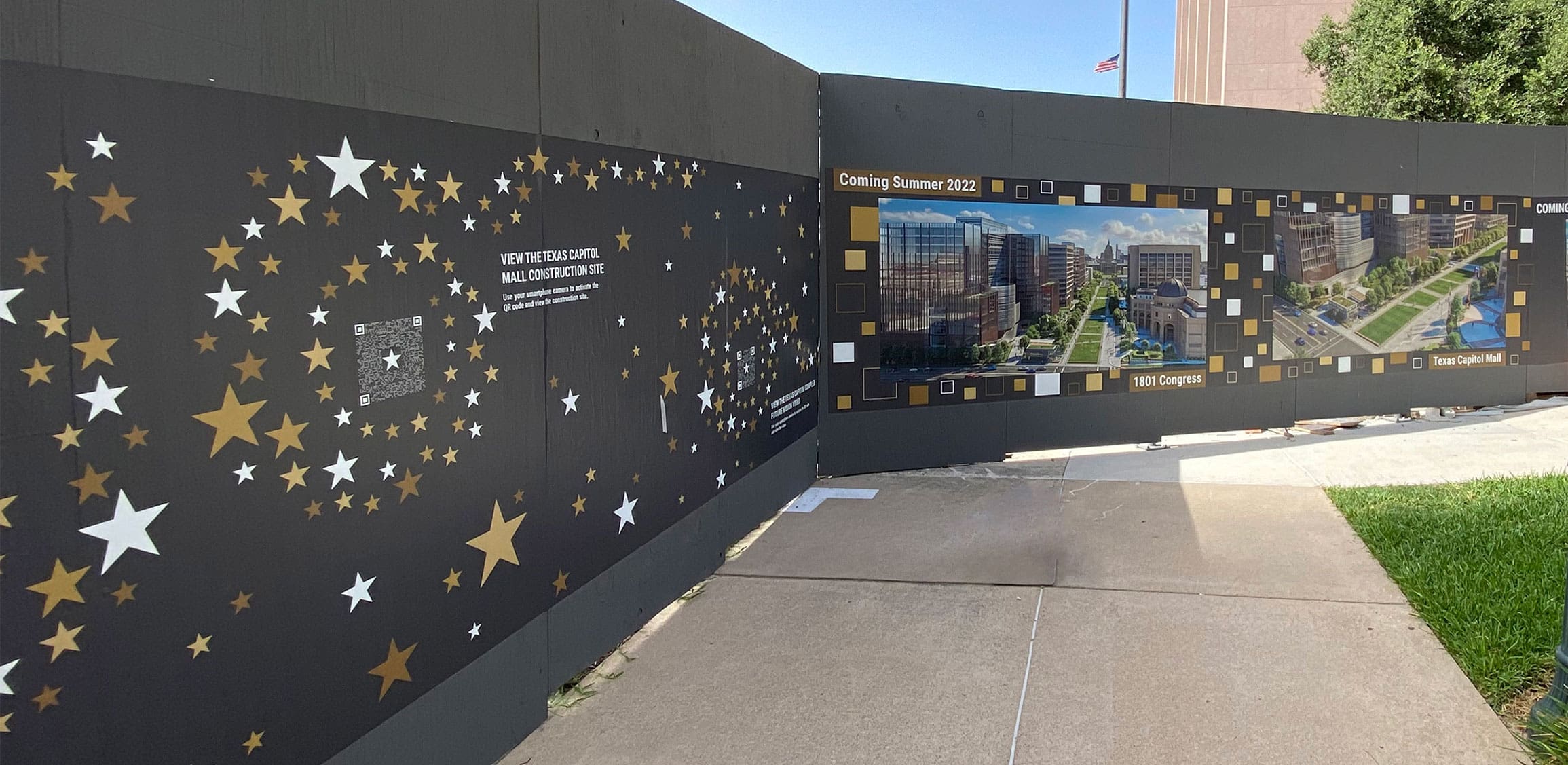 CONSTRUCTION OR PUBLIC ART?
As part of the Package 1 site excavation for the construction of the new Texas Capitol Mall, General Contractor J.E. Dunn installed a safety fence around the 5-story deep construction zone. The fence is directly in front of the Bullock Texas State History Museum adjacent to the Bullock Star. The Texas Facilities Commission saw an opportunity for this "blank canvas" and requested that Balfour Beatty develop signage for the fence to provide information about the construction project while complementing the museum.
Artist Alyssa Curry of Markind, the communication partner on Balfour Beatty's team, designed a swirling star pattern to celebrate the 35-foot Bullock Texas State History Museum star sculpture. Infographic panels, "fun fact" panels, and QR codes linked to the project website were placed into the design to provide onlookers additional information about the project. AIM Graphics, the signage partner for the J.E. Dunn team, installed the graphic which spans the length of the fence from MLK Blvd. to 18 Street.