Barbara Jordan State Office Building – 1601 Congress – (Package 5)
rsevers
This beautiful building will be the new home of the Texas Department of Insurance (TDI) and the Capitol Complex Child Care Center. The lobby of the Jordan building will feature a brilliant white glass wall with an etched timeline of the Capitol Complex, warm-toned wood paneling, and of course a granite marker.
A café on the ground floor of the Jordan Building managed by a Texas Workforce Commission BET licensed food service manager will operate Monday – Friday from 7am – 2pm, except on federal and state holidays. The menu will include grilled and fried items, salads, sandwiches, desserts, assorted pastries and snacks, fountain and bottle drinks, and tea and coffee. The café is expected to open in late August once tenants have moved into the building.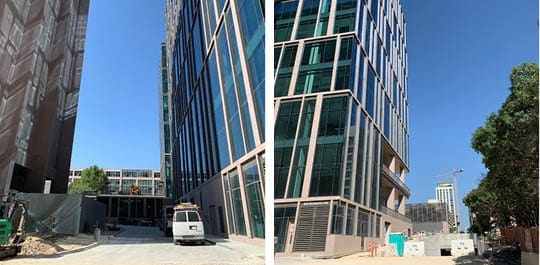 The Barbara Jordan Building will also be the home of the new Capitol Complex Conference center, with eleven meeting rooms and seven pre-function spaces available to reserve by any State agency for business meetings. A new conference reservation system will come online later this month. Existing users of the TFC conference systems will be the first to be onboarded. They will receive an email invitation and system instructions. The new conference rooms will begin to appear in the new conference reservation system as the rooms are completed and ready for use.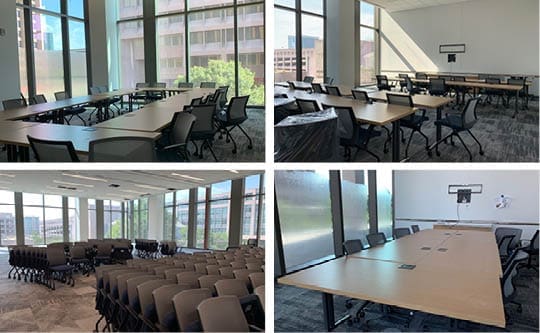 The Capitol Complex Child Care Center will move their current students into their new facility on August 1, 2022. State employees, including UT faculty and staff, are eligible to use the program, and new classes will open on August 15. The program educators and project architects carefully designed the Child Care Center to create a bright and nurturing learning environment. The Center will have three secured access, age-specific playgrounds, two on the east side of the building and one on the Capitol Mall.
The Child Care Center is excited to have open slots for new students. Interested parents can inquire and enroll their children at: Capitol Complex Child Development Center | Child Development Center | The University of Texas at Austin (utexas.edu)