Construction Progress Report, January 26, 2022
rsevers
1801 Congress – George H.W. Bush State Office Building – (Package 4)
Our flagship building will receive its first tenants this spring, and crews are working diligently on the interior framing and construction. Conditioned air from the new Central Utility Plant is now flowing on several levels, and seven elevators have been installed. Work on the interior finishes has begun on walls, ceilings, and flooring on the lower-level floors. The priority is to finish out the tenant space for the Texas Lottery Commission and the Racing Commission. Theses two agencies will be moving into the building in the spring.
The TFC project managers are now in the final stages of creating the move-in schedule for the 20+ agencies moving into the building over the summer. You can see the daily progress of the project on our website, or visit Tour Stop #4 of our virtual construction tour to see videos and highlights on this impressive building. (General Contractor: Flintco)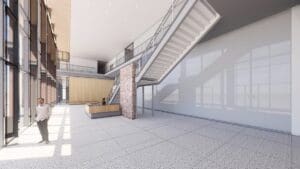 Rendering of Barbara Jordan State Office Building Lobby courtesy of Kirksey Architecture
1601 Congress – Barbara Jordan State Office Building – (Package 5)
This building will be the new home of the Texas Department of Insurance (TDI) and the Capitol Complex Child Care Center. Interior construction work continues on the framing, ceiling, flooring, and mechanical system on Floors 1 through 6. The first floor will house the Child Care Center which plans to move over the summer to be ready to open in August for the new school year.
The Barbara Jordan Building will also be the home of the new Capitol Complex Conference center, with eleven meeting rooms and seven pre-function spaces available to be reserved by any State Agency for their business meetings.
For more background on this building, visit Tour Stop #5 of our virtual construction tour. (General Contractor: White Construction)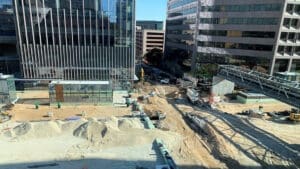 Underground Parking Garage and Texas Mall – 18th and 17th Street blocks – (Package 6)
The new Capitol Mall parking garage will add an estimated 2,500 parking spaces to the over 10,500 parking spaces available for State employees in the center of Austin. The underground parking garage will also be used by the tenants of the William B. Travis Building and the Stephen F. Austin buildings located along Congress Avenue. (Note: The George H.W. Bush Building has ample parking spaces for all new tenants within its footprint, and the Barbara Jordan Building also has below-grade parking for tenants.)
State employees will enter the underground garage on 17th Street and park under Congress Avenue near any of the state buildings along the avenue. Seven 'Portals" (elevators and stairways) provide access to the mall from the underground garage. You can now see all the portals from the construction cameras on the TexasCapitolComplex.org website. Look at the details of this construction package at Tour Stop #6. (General Contractor: White Construction)