Construction Progress Report, November 1, 2021
rsevers
1801 Congress – George H.W. Bush State Office Building – (Package 4)
Work on our flagship building is progressing quickly. The curtain wall (exterior skin) has been completed from the ground floor to the roof. Conditioned air from the new Central Utility Plant is now flowing from levels 2-10, and three elevators have been installed. Interior sheetrock work has started, and the Texas Lottery studio on the ground floor is taking shape. All other future tenant Agencies have received preliminary floorplans of their new office spaces and are working with TFC architects to finalize layouts soon.
Watch the daily progress on the construction cameras on the website, or visit Tour Stop #4 of our virtual construction tour to see videos and highlights on this impressive building. (General Contractor: Flintco)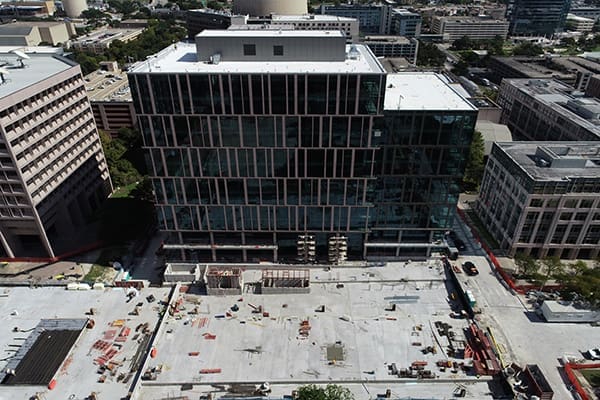 1601 Congress – Barbara Jordan State Office Building – (Package 5)
Peek at the construction cameras to see the completion of the granite work on this beautiful building. The granite columns on the west side of the building are almost complete. The grand staircase in the lobby has been completed and work on the interior construction is progressing quickly. Work has also begun on the elevators so the exterior construction buck hoists will be removed soon.
For more background on the construction of this building, visit Tour Stop #5 of our virtual construction tour. (General Contractor: White Construction)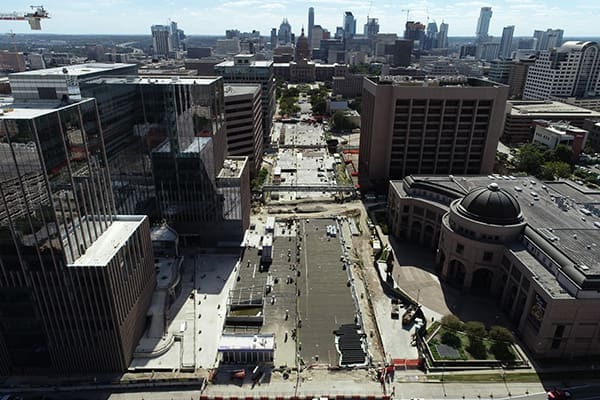 Underground Parking Garage and Texas Mall – 18th and 17th Street blocks  – (Package 6)
The five-story underground parking garage has also topped out and the waterproofing process has begun. The waterproofing must be completed before any of the landscaping can begin.
There will be seven portals (elevators and stair ways) to access the underground garage facility from the mall. Three Portals are complete, and work has begun on two other portals. The mechanical and electrical work for the garage and to reroute the above ground utilities is also on track. For more information on this construction package, please visit our virtual construction Tour Stop #6. (General Contractor: White Construction)